Priority Enrollment for 2017-2018 Season
Offered to our current students. Open Enrollment begins June 22nd.
Click HERE to view our 2017-2018 Season Schedule.
NEW! Introducing Drop In Day Camps!
Now Enrolling for Summer 2017 Dance Camps!
All Camps are 10% OFF!
Weekly Summer Technique Classes will be offered
June 12-July 27. Only $10 per class!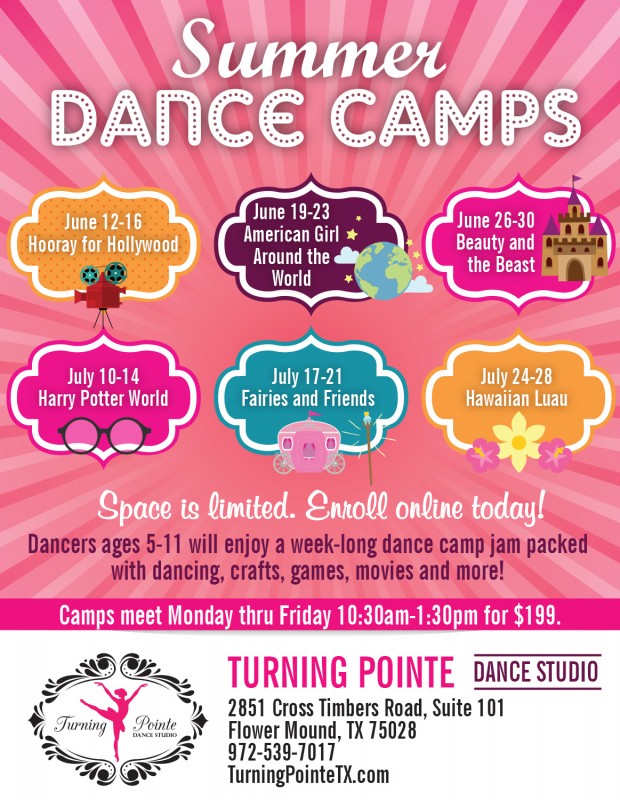 Our 45 minute combination classes of tap and ballet offer our young dancers, starting at age 3, an introduction to the wonderful world of dance. Our young students learn the proper technique and vocabulary of the steps that will lead them through a lifetime of love for dance.
Combo 1: Ages 3-4
Combo 2: Ages 4-5
Combo 3: Ages 5-6
Combo 4: Ages 6-7

Summer 2017 Weekly Class Schedule: June 12-July 27
Combo 3&4: Mondays 4:00-4:45pm Studio B
Our weekly technique classes inspire and challenge our students to expand their knowledge of the steps while encompassing creative and energetic choreography. Dancers can choose from a variety of classes including the traditional favorites of ballet, tap and jazz as well as the unique styles of contemporary and hip hop. Our technique classes are recreational and will most likely have a mixed level of dancers within each class. Every dancer has their own strengths and we will be sure to bring those out every week! Should your dancer desire a more focused, skill-based class, we recommend learning more about our Dance Company or Performance Team.

Beginner Classes: Ages 7-9
Intermediate Classes: Ages 9-11

Summer 2017 Weekly Class Schedule: June 12-July 27
Beginner/Intermediate Ballet: Mondays 4:45-5:30pm Studio B
Beginner/Intermediate Jazz: Mondays 5:30-6:15pm Studio B
Beginner/Intermediate Contemporary: Mondays 6:15-7:00pm Studio B
Turning Pointe is thrilled to offer Acro Skills and Acro Dance in our program this season!
Acro Skills will focus specifically on the skills set for that level. Some dancers may want to incorporate their newly perfected skills into a dance routine. Acro Dance is an ADD-ON class to Acro Skills. It combines dance technique with gymnastics skills. Students will add their acrobatic skills to choreography to create routines that seamlessly incorporate dance and gymnastics elements. Levels are deteremined based on specific skills achieved.
We offer classes specifically designed for beginner to intermediate teens ages 12 and up who are new to dance, but are interested in training in a variety of styles. Our schedule offers Teen classes including Ballet, Jazz, Contemporary, Hip Hop and Drill Team Prep.
Summer 2017 Weekly Class Schedule: June 12-July 27
Teen Ballet: Wednesdays 6:00-7:00pm Studio B
Teen Jazz: Thursdays 6:00-6:45pm Studio C
Teen Contemporary: Thursdays 6:45-7:30pm Studio C
Please see more information on these special performance and competitive teams we offer on our Performing page.
This class is specifically designed for young men 1st through 5th grade. Stay tuned for our 2017-2018 Season Schedule when this class resumes.
We offer custom homeschool classes for your group. You can set the day, time, length of class, ages taught, styles learned and more!
Would your homeschool group like to customize a class? Let us know and we will create a class just for you!
It is never too late to start dancing or revisit the styles you loved growing up. Our adult classes feature Tone & Sculpt, traditional Ballet, and Tap - all taught in a relaxed and comfortable atmosphere. No tights required! Each class is designed to tone and stretch while providing a great workout. We invite you to come give them a try. It sure beats the treadmill.

Option 1: Monthly enrollment, autodraft on the 1st (Tuition rates shown are for adult classes only.)
1 class/week; $40/month
2 classes/week: $60/month
3 classes/week: $80/month
4 classes/week: $100/month

Option 2: Punch card
5 Classes = $50, good for 60 days and can be used toward any adult class
10 Classes = $100, good for 90 days and can be used toward any adult class

Option 3: Drop in
Drop in rate is $10/class

Adult Class Schedule
Tuesdays 9:30-10:30am - Tone & Sculpt (A unique cardio hybrid of Pilates, Yoga & Ballet)
Tuesdays 10:30-11:15am - Tap
Thursdays 9:30-10:30am - Tone & Sculpt
Thursdays 10:30-11:15am - Ballet (Classic conditioning at the barre)

What to wear: Just be comfy. A t-shirt or tank, yoga pants or dance shorts.
Throughout the year, we bring some of the most talented and respected performers, teachers and choreographers in the industry to Turning Pointe. These exclusive master classes allow our dancers to receive personalized training from these powerhouse instructors in an intimate setting. Broadway & Television Casting Director, David Petro flew in from New York in September of 2011 for our dancers. Courtney Galiano, Tadd Gadduang, Hayley Erbert, Rudy Abreu,Tiffany Maher, and Comfort Fedoke Top 10 contestants of "So You Think You Can Dance," have taught amazing workshops exclusively at our studio since 2012.
Turning Pointe sells quality dancewear and shoes at an affordable price. We custom fit your dancer for the size they need, place an order just for them and have your items ready for pick up the following week.
Proper dress for dance class is extremely important as teachers need to be able to see a dancers body in order to give corrections on placement and alignment.
Combo Classes
Solid colored leotard, pink tights, pink leather ballet shoes, black tap shoes. Skirt is optional. No tutus or old recital costumes should be worn to class please. Black is classic and never goes out of style. :)
Ballet Classes
Solid black leotard, tan tights, ballet skirt or black dance shorts, pink split-soled ballet shoes.
Jazz, Tap, Contemporary & Acro Classes
Solid black leotard, tan tights, black dance shorts, tan split-soled jazz shoes, black slip on tap shoes or nude half soles respectively.
Hip Hop
Solid black T-shirt, black shorts or black dance pants. Clean tennis shoes. No jeans or jean shorts please.
Boys
Solid colored t-shirt and black basketball shorts. (If taking ballet, shoes should be black.)
2016
August 18 - Our 12th Season Classes Begin
September 2-5 - Labor Day Weekend and Labor Day (studio closed)
October 10 - Columbus Day (All classes will be held as usual)
October 15 - WINTER SHOWCASE Performance Fee charged to billing info on file
October 24-31 - Halloween Week (students may wear Halloween costume to class. No classes after 6pm on Oct 31st.)
November 15 - SPRING RECITAL Costume Fee charged to billing info on file
November 21-26 - Thanksgiving Break (studio closed)
December 21-Jan 3 - Christmas Break (studio closed)

2017
January 4 - Classes Resume after Christmas Break
January 14 - WINTER SHOWCASE Performance @ Lake Dallas High School
January 16 - MLK Jr Day (All classes will be held as usual.
January 16-21 Fresh Start to the Spring Semester. Best time for new students to start classes.
February 20 - President's Day (All classes will be held as usual)
March 13-18 - Spring Break (Studio Closed)
March 15 - SPRING RECITAL PERFORMANCE FEE charged to billing info on file
May 17-18 - SPRING RECITAL Dress Rehearsals at Lake Dallas High School
May 21 - SPRING RECITAL Performances at Lake Dallas High School
May 22-25 - Picture & Celebration Week (students take individual & group photos in costume AND receive trophies)
May 25 - Last class day of our 12th season
The only dates listed above are the holidays we observe. The studio does not close for Columbus Day, President's Day, MLK Day, etc. We also do not observe AISD, DISD or LISD staff/planning days as holidays.
Inclement Weather Policy
Should we have inclement weather, morning classes will follow the DISD and LISD school closings. Please check your email, optional text or our Facebook page for a closing announcement.